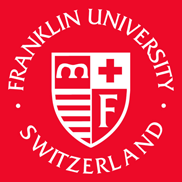 Franklin University Switzerland
Named for the United States' first and most illustrious ambassador to Europe, Franklin University Switzerland was founded in 1969. Franklin is a non-profit four-year liberal arts college that takes as its cornerstone Benjamin Franklin's vigorous support of intellectual interchange between nations.
Among Franklin's goals, the foremost is to provide students with an educational experience that is in every significant respect international. All courses are designed to be cross-cultural in content and perspective. The curriculum, developed in the liberal arts tradition, also allows students to pursue professional avenues through the International Business Program.
The hallmarks of Franklin's mission are to assist each student in achieving a humanistic education; to further the growth of students through immersion in a different social and cultural environment; to equip students with solid tools of inquiry and judgment and to instill in them an awareness of, and commitment to, the international dimension of human existence. The mission is enhanced by the College's Academic Travel Program, by which, students travel with faculty to various cities around the world during the semester, as part of their formal education.
Franklin University Switzerland
via Ponte Tresa 29
6924 Sorengo (Lugano)
Switzerland
Tel.: +41 91 985 2260
Fax: +41 91 994 4117
http://www.fus.edu
US Address:

The Graybar building
420 Lexington Avenue, Suite 2746
New York, NY, 10170
Tel: 212-922-9650
Dr. Samuel Martín-Barbero, President
Tel.: +41 91 985 2266
Fax: +41 91 993 3956
E-mail: samuelmb@fus.edu
president@fus.edu

Dr. Andrew Starcher, Vice President of Academic Affairs
Tel.: +41 91 986 3652
Fax: +41 91 994 4117
E-mail: astarcher@fus.edu