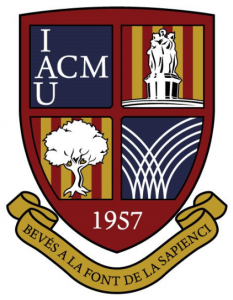 American College of the Mediterranean (ACM)
The American College of the Mediterranean (ACM) is a private, not-for-profit university located in Aix-en-Provence, France. Its study abroad institute, the Institute for American Universities (IAU), was founded as an independent, free-standing institution in 1957 by academics and former diplomats such as Dr. Herbert Maza (who also served as its first President), Dr. Evron Kirkpatrick, Ambassadors Jeane Kirkpatrick, Dr. Max Kampelman, and others who wanted to provide a platform for American students interested in studying diplomatic relations with related interests and careers in the Foreign Service and the State Department.
The mission of the American College of the Mediterranean is to provide excellence in international education, inspire intercultural awareness, and prepare students for success in a global community through the study of European and Mediterranean history, languages, cultures, and contemporary issues. It does so through a unique combination of courses, internships, curricula, that combine to create American-style undergraduate and graduate degree programs in an international and cross-cultural setting.
ACM seeks to become a distinguished hybrid institution that integrates the best practices and values of an international institution of Higher Education with those of a degree-granting American-style university. ACM is pleased to offer the following graduate degree programs at its Aix-en-Provence, France campus:
Global Master of Business Administration (GMBA)
Master of Fine Arts (MFA) in Painting or Sculpture
Master of Arts in Art History (MAAH)
Master of Arts in French Studies (MAFS)
Master of Arts in International Education Administration (MAIE)
Master of Arts in International Relations (MAIR)
Master of Arts in Media Studies (MAMS)
ACM leverages its liberal arts and business studies offerings with its international identity and strategic location to provide students with exposure to European and Mediterranean countries in this four-year, 124-credit BA degree. The majors and minors at The American College of the Mediterranean reflect the site-specificity of our campus in Southern France and the Mediterranean and build upon ACM's academic tradition as a leader in international education. ACM offers ten different bachelor's programs, as well as the option to self-design a field of study from a wide range of course offerings. The flexible and individualized curriculum allows students to design their own major, in conversation with their academic advisor, to fit individual academic interests. Available majors are as follows:
Art History
Communication Studies
French Studies
History
International Business
International Relations
Mediterranean Studies
Painting
Political Science
Self-Designed Field of Study
Visual Arts
The American College of the Mediterranean has different housing options available to both undergraduate and graduate students, including a homestay with a French host family, residence halls, or apartments/independent housing. ACM encourages students to live with a host family for at least one semester. Aix-en-Provence is known for being a bustling university town, with French students enrolled at neighboring Sciences-Po, Aix-Marseille University, and other nearby universities. As the second-largest college town in France, Aix-en-Provence is the perfect backdrop for ACM to provide an American-style education in a genuinely French setting. Combining this ideal location with accomplished and engaging faculty, small class sizes, and access to a multitude of resources around Europe, ACM is the perfect place to pursue a degree.
American College of the Mediterranean
U.S. Headquarters
27, place de l'Université
13604 Aix-en-Provence CEDEX 1
France
Tel.: +33 4 4223 3935
Fax: +33 4 4221 1138
www.acmfrance.org
The American College of the Mediterranean
4500 S. Lakeshore Drive
Suite 358
Tempe, AZ 85282
admissions@acmfrance.org