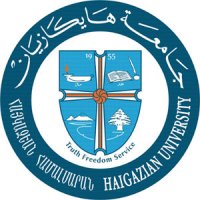 On October 17, 1955 Haigazian University was established in Beirut, Lebanon by the joint endeavors of the Armenian Missionary Association of America (AMAA) and the Union of the Armenian Evangelical Churches in the Near East (UAECNE). This eastern Mediterranean institution is a liberal arts university which emphasizes a challenging curriculum, good teacher-student relations, and empowerment through the free search for truth. The leadership at Haigazian believe that the free exchange of ideas among people from a multiplicity of ethnic and religious backgrounds is one of the best forms education can take; consequently, Haigazian is home campus to students from 20 countries throughout the world. These students enjoy a student-teacher ratio of 14 to 1 which facilitates the university emphasis on a personalized, meaningful education.
Haigazian University offers B.A., B.B.A., B.S., M.A. and M.B.A. degrees as well as a teacher's Normal Diploma. Its units and courses are patterned after the American system of higher education such that students wishing to pursue M.A. and Ph.D. degrees may be attained include: Business Administration (with emphasis on HOM, MIS, ACC, ADC, FIN, LST), Hospitality Management, Economics, Arabic, Armenian, English (with a literature, language of TEFL emphasis), History, Biology, Nutrition and Dietetics, Chemistry, Computer Science, Mathematics, Physics, Medical Laboratory Sciences, Education, Political Science, Psychology, and Social Work. All students are assisted in their respective programs by a Faculty Advisor who works to enable them to make the best choices regarding their educational and vocational future. Assistance in the form of financial aid is available as well.
Haigazian University believes that education never stops. The lifelong learning division of Haigazian University is Center for Continuing Education, which consists of two evening programs. The In-service Teacher Training Program is attended by school teachers who wish to upgrade their teaching skills through courses and workshops. The Adult Education Program offers business training and other topics of general interest.
Haigazian University
P.O. Box 11-1748
Mexique Street
Beirut 1107-2090, Lebanon
Tel.: +961 1 349 230/1
Fax: +961 1 353 010/1/2
http://www.haigazian.edu.lb

US Address:
Haigazian University office
AMAA Headquarters
31 West Century Road
Paramus, NJ 07652
Tel.: 201-265-2607
Rev. Paul Haidostian, Ph.D., President
Tel. and Fax: +961 1 350 926
E-mail: president@haigazian.edu.lb
Paul.Haidostian@haigazian.edu.lb
Contact: Nazeli Kandakarjian (nazeli.kandakarjian@haigazian.edu.lb)
Dr. Arda Ekmekji, Dean of Arts and Sciences
Tel. and Fax: +961 1 349 230/1
E-mail: Arda.ekmekji@haigazian.edu.lb 
Dr. Fadi Asrawi, Dean of Business and Economics
Tel. and Fax: +961 1349 230/1
E-mail: Fadi.asrawi@haigazian.edu.lb