The American University of Rome
The American University of Rome is a private, independent, not-for-profit institution of higher education located in Rome. It offers the Bachelor of Arts Degree in Archeology and Classical Heritage, Art History, Communication, Film and Digital Media, Interdisciplinary Studies, International Relations and Global Politics, and Italian Studies and a Bachelor of Science Degree in Business Administration as well as an Associate of Arts Degree in Liberal Studies and an Associate in Applied Arts Degree in International Business.
AUR's programs are characterized by their focus on cross-cultural issues, the use of Rome and its resources in teaching, the interplay across disciplines and the building of fundamental competencies to prepare students to live and work in an increasingly technological and interconnected world society. It also offers semesters abroad to students from American colleges and universities.
AUR, founded in 1969 as an institution for study-abroad students, was incorporated in the District of Columbia in 1970, as a result of the work of David Colin, an American journalist who settled in Rome after World War II. Colin became an important figure in Rome's literary and artistic circles and as American students and professors began visiting Rome, he was instrumental in fostering cultural exchange between young Americans and their Italian counterparts. Over the years, informal evening discussions at his home grew into more formal lectures and classes. His wife, Joan Carpenter, worked with him in this endeavor. She still lives in Rome and has been a longtime friend of the University.
Colin began to work with an Italian named George Tesoro, who had moved to America in 1940 in protest against Mussolini's fascist regime. The program began to grow and the idea of an American University in Rome became a reality in 1969, with Colin as President and Tesoro as Chairman.
For nearly 25 years the University operated out of several locations in apartment buildings in the center of Rome, until it moved to its current location on the Janiculum hill in 1993.
AUR was licensed by the Education Licensure Commission of the District of Columbia in 1986 to offer Bachelor's and Associate's Degrees and graduated its first class in 1987. AUR is the oldest degree-granting American university in Rome.
AUR has been accredited by the Accrediting Council for Independent Colleges and Schools (ACICS) since August 1992 and the Middle States Commission on Higher Education (MSCHE) since March 2010. It is also registered as a legal entity with the Rome Tribunal and authorized to operate in Italy by the Ministry of Universities and Scientific and Technological Research.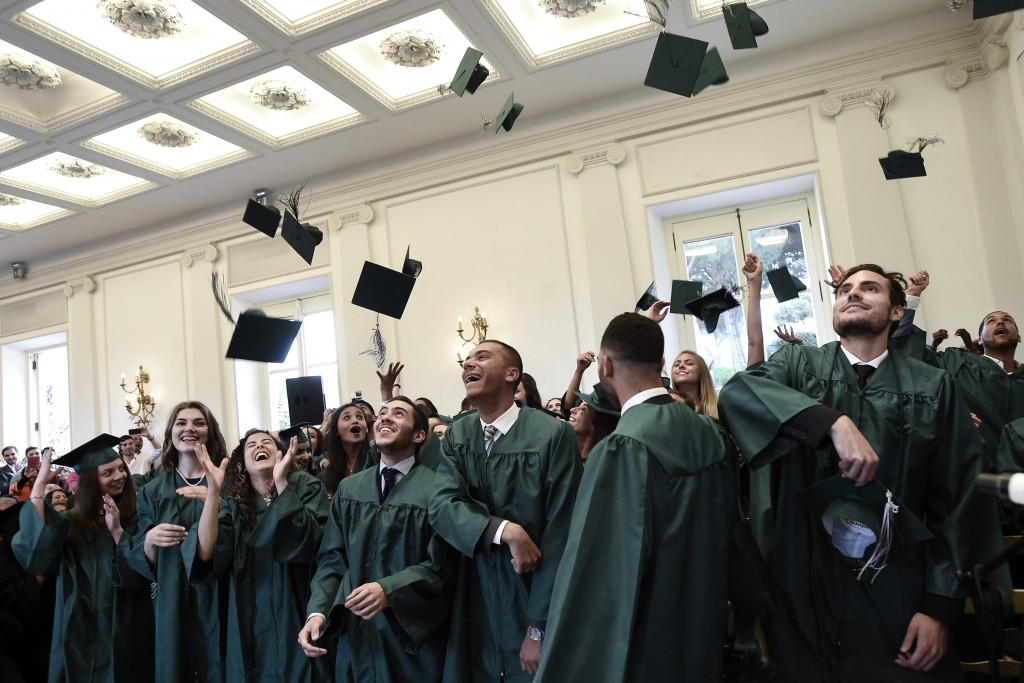 The American University of Rome
Via Pietro Roselli 4
00153 Rome, Italy
Tel: +39 06 5833 0919
Fax: +39 06 5833 0992
http://www.aur.edu
Dr. Scott Sprenger, President
E-mail: president@aur.edu
Dr. John D. Muccigrosso, Dean of Academic Affairs
E-mail: j.muccigrosso@aur.edu